The mute button, or at least the threat of it, seems to be working. Early in the second presidential debate, Donald Trump and Joe Biden candidates have been more restrained.
The candidates allowed each other to speak. They used respectful tones. Even when they went on the attack, they did so in a calm, deliberate manner.
After a pugnacious first debate, during which Donald Trump's constant interruptions may have cost him support in subsequent opinion polls, the president has very visibly dialled down the volume.
This time, the content of what the candidates are saying might be what the American public remembers from the debate – not the chaotic manner in which it was delivered.
Covid takes centre stage
The Trump campaign complained that this debate was supposed to be focused on foreign policy – perhaps allowing the president to tout what he sees as his accomplishments in the Middle East, trade and Syria and go after Biden on his son's business ties to China.
Instead, the debate, like earlier debates, started on the coronavirus pandemic – a topic polls show the American public care most about.
Donald Trump, once again touted a vaccine he said would be ready "in weeks". He offered personal testimony to the power of the new drugs to treat the disease and boasted that he was now "immune".
Biden, not surprisingly, went on the attack. He pointed out Trump had repeatedly promised the disease would disappear on its own. He said there were 220,000 Americans dead and there could be another 200,000 by the end of the year.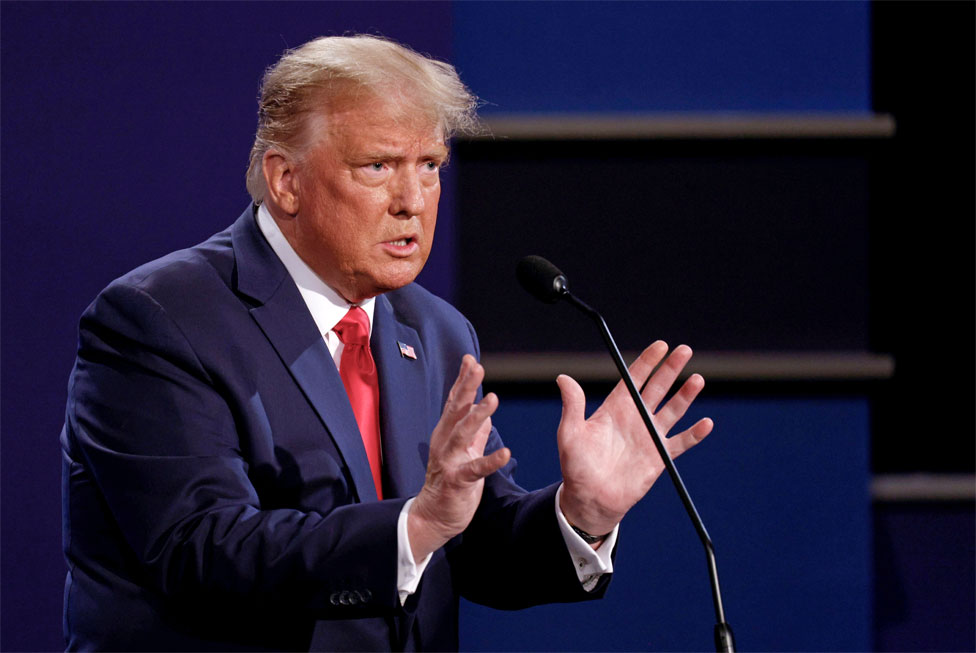 In the back and forth between the two candidates, Trump continued to offer hope that things were getting better and businesses and schools should reopen. And when Trump said that people were "learning to live" with the disease, Biden pounced.
"People are learning to live with it?" he asked. "People are learning to die with it."
At one point, Trump offered an answer that he said was "perhaps just to finish this". The president, clearly, was eager move on to different subjects.
The inevitable Hunter Biden exchange
Trump telegraphed early and often that he would make Biden's son Hunter a topic of the debate, and it wasn't long before the president brought the former vice-president's family up. He alleged that Biden personally profited from his son's business dealings in Ukraine and China, citing recent news stories based on information allegedly gleaned from Hunter Biden's laptop computer.
Biden's defence was to change the subject to Trump's taxes and the president's own ties to China. It ended up being a he said, he said exchange that probably left the casual American view confused – culminating in what was clearly an exchange of scripted lines.
"This is not about his family or my family, it's about your family," Biden said.
"That's a typical politician line," Trump countered, adding that he – by contrast – was not a politician. "Come on, Joe. You can do better than that."